Whether you are an experienced computer builder or a first-timer, you keep thinking of how to make your build cooler, air cooling vs water cooling? It seems like water cooling is better because water can transfer heat much better than air, you already know it if you have built a water cooling system before. 
In this post, I've gathered some of the best 360mm radiators out there so you can decide for yourself which one is better based on your budget and need. 
What Is PC Liquid Cooling
Computer liquid cooling is a process of removing heat from a computer system. It is done by circulating a liquid coolant, usually water, through the computer's radiator to remove the heat.
Do I need a radiator for my PC? 
Only if you have a water cooling system, if you're using air cooling then No, you don't need a radiator. 
Water Cooling Your PC
It's more useful to use water cooling than air cooling because water transfers heat more efficiently, quieter system, and won't spread the heat all over other components, but it's not that important if you don't need to, you better save the extra money for other upgrades. 
Best 360mm Radiator
Make sure first your case can fit a 360mm radiator before you order one, it's a rookie mistake so don't fall for it. 
XSPC EX360 Radiator
The EX series from XSPC is optimized to give high performance when using low-speed fans with low noise levels. 
The core is made of brass and copper so make sure not to use it with components made of aluminum because the two materials will interact together. 
The radiator comes with fan and case screws, you can mount fans on both sides for extra performance with push/pull configuration but the difference from a push configuration is not huge, some people recommend installing two radiators instead of mounting 6 fans on one radiator. 
18 fins per inch, high static pressure fans are suitable for this radiator.
Check out this rad on Amazon
Alphacool 14174 NexXxoS UT60 Full Copper
A unique radiator from AlphaCool which is made fully of copper, this includes the channels, fins, and the chambers as well, the side panels though, are made of steel for extra protection and the threads are made of brass. 
It comes in 4 different thicknesses, 30, 45, 60 and 85mm. 
The radiator performs well at low and medium-speed fans. 
The density (FPI) is 10 fins per inch which is less than the previous one. 
Cons
Painting quality is bad, comes off when touching a metal surface. 

The fins can be damaged easily. 
Check it out on Amazon
NZXT Kraken X72 360mm
This is not just a radiator, it's an all in one RGB CPU liquid cooler, if you're not interested in this AIO kit and want just a radiator then you're free to skip to the next one. 
The radiator material is Aluminum which is not that great, copper would have been better, other materials are copper, plastic, rubber and nylon sleeving. 
The CAM software is a nice addition to help you fine-tune the settings for better performance 
Pros
RGB

Good cooling performance

Low noise levels

Easy installation
Cons 
Bad CAM software. 

Doesn't come with an AM4 nor TR4 bracket. 
Check out this radiator on Amazon
Thermaltake Pacific DIY Liquid Cooling System CL360
The core material is copper and brass with steel side panels for extra protection, the thickness is 64mm and the FPI (fins per inch) is 14, the chamber and housing are also made of copper but the tank is made of brass. 
It's designed to work well at low and high airflow operations, the soldering of the fins has been taking care of really well. 
I got confused about the real material used but I think it's copper and brass (the core) according to the description of the product, if it's aluminum make sure the rest of your cooling kit is aluminum, don't mix different metals together to avoid corrosion.
Cons
Not compatible with copper and nickel water blocks.

Only recommend with parts made of Aluminum. 

More recommend if you have all Thermaltake.
Check the price at Amazon
Black Ice Nemesis 360GTS Radiator
This one is from Hardware Labs, the fins and core are made of copper which is good, you also have the ability to mount 3 fans on the back for a push/pull configuration. 
The cooling performance is pretty good when running games at full settings, the maximum temperature will be around 60C, tweaking your cooling system a little can lower the temperature by a few degrees. 
Pros 
Performs well at low RPM. 
Check the price at Amazon
EKWB EK-CoolStream XE 360 Radiator
ExtremeRigs has run a test in 2015 or 2016 on 27 different radiators to see which one performed the best, and you guessed it right, this radiator won the contest so it was a must to put it on this list, let me know below if it deserves to be put first. 
With a thickness of 60mm, copper fins and brass chambers, the housing is made of a combination of aluminum and steel 
The density or FPI is 16 fins per inch which is good compared to other radiators. 
A better cooling performance than AlphaCool or Thermaltake radiators. 
Pros
Cons
Check the price at Amazon
Push-pull vs Push vs Pull configuration?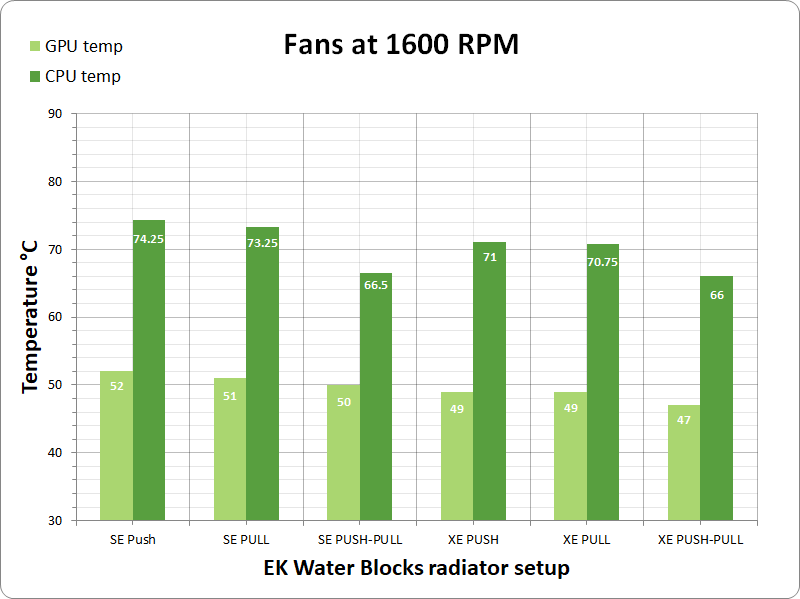 According to this article from EKWB, a Push-pull configuration is better than the other two configurations, especially, if the radiator is thicker and has less FPI when the fans are running at higher RPM. 
But remember, the more fans you install the more noise you get, so it's up to you to decide. 
Should you go for a bigger radiator?
Check out this post to see the best 480mm radiators and why bigger radiators are better, plus you'll get to know how a PC radiator actually works.